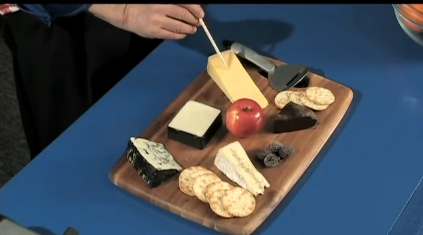 4 Cheese Party Tray
4 Cheese Party Tray
Manfreed demonstrates a healthy, interesting, easy to prepare, superb 4 Cheese Party Tray. The 4 Cheeses in the video are for example only. Please visit the cheese area in your market/grocery store and ask for examples and explanations about the cheeses available. Find the cheese flavor, texture, aroma and appearance that you would like on a 4 Cheese Party Platter.
Ingredients / Shopping List
The Cheeses in Manfreed's Example $ Cheese Party Tray
English Cheddar (England)
Chevre Noir (Quebec, Canada)
Roquefort Papillon Noir (France)
Truffled Royal Brie (France)
Examples of Deliciously Superb Flavors To accompany a Bite of Cheese
Fig
Quince Jelly
Apple
Instructions
Variations – for 4 Cheese Party Tray
Try a variety of fruits and vegetable and crackers with your cheeses
Kitchen Utensils – for 4 Cheese Party Tray
Serving tray/plate or clean cutting board
Sharp knife for cutting cheese
Cheese Slicer for hard cheeses
Serving plates
Knapkins
Food Safety – for 4 Cheese Party Tray
Wash your hands with hand soap and water.
Make certain that all kitchen utensils and tools are clean
Be cautious with the knife. Curl your fingers back away from the knife when holding what you are cutting.
Never lick a knife.
Do not lick your fingers without washing your hands instantly after licking.
Never lick any kitchen utensil without washing it instantly before using it again.
Easy Clean-up – for 4 Cheese Party Tray
Dish soap, Dishtowels, Kitchen Sponge/Cloth
Wash all the kitchen utensils/tools and put them away in the proper cupboard.
Put ingredients back into the proper cupboards.
Wipe down the counter-top with soap and water.
Wrap all left-over cheese well and refrigerate.
Notes / Serving Tips
Please visit the cheese counter or cheese specialty store in your area.
Ask for sample tastes and an explanation.
Ask when and with what you would serve a particular cheese.
You may ask the cheese specialist for a 4 cheese tray suggestion.
Be daring and try many cheeses.
Cheers Manfreed