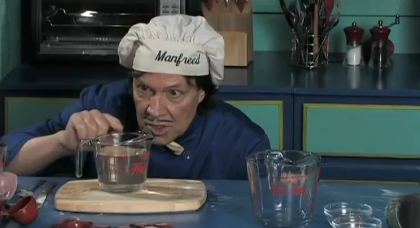 Measuring Ingredients – How to Measure Ingredients
Measuring Ingredients - How to Measure Ingredients
Manfreed demonstrates the proper method for using measuring cups and measuring spoons for both dry and liquid measurements.
Ingredients / Shopping List
Ingredients used in video for example:
1. Dry Ingredients - use Dry Ingredient Cups
Flour
Rolled Oats
Baking Powder
Baking Soda
Measuring Cups
e.g. Brown Sugar
Imperial/Metric
1 cup/250 ml
½ cup/125 ml
⅓ cup/70 ml
¼ cup/60 ml
Measuring Spoons
Imperial/Metric
1 tablespoon/15 ml
½ tablespoon/7.5 ml
1 teaspoon/5 ml
½ teaspoon/2.5 ml
¼ teaspoon/1.25 ml
Liquid Ingredients - use Liquid Ingredient Cups
Sticky Liquids use:
Measuring Spoons for small amounts
Liquid Measuring Cups for larger amounts
Pinch of an Ingredient
e. g. salt
Few Grains
e.g. nutmeg
Instructions
Dry Ingredient Cups and Measuring Spoons have flat tops - this makes it easy to measure evenly.
Liquid Ingredient Cups have measuring lines on ths cup side, and are made with a funnel lip for pouring.
Measuring Spoons may be used for both Dry and Liquid Ingredients measurement. Remember to clean spoons between measurements for accuracy.
Notes / Serving Tips
The reason for accurate measurements in baking and cooking is that recipes are created with specific amounts of Ingredients for specific reasons.

Firstly, baking and cooking involves the magic of specific amounts of many ingredients working together to produce a deliciously healthy homemade product. e.g. cookies, cakes or a delicious beef stew or the dough for a vegetarian pizza.

Secondly, recipes create specific flavors and tastes for our pallets by combining ingredients in specific proportions. Change one amount of one ingredient and the flavor is changed.