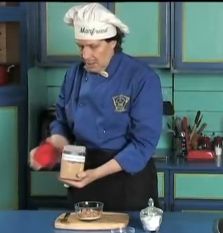 Cold Cereal – quick, easy from scratch, deliciously nutritious
Cold Cereal
Breakfast is the most important meal of the day. Get started with this quick, easy from scratch cold cereal.
Ingredients / Shopping List
Cereal - your choice - check out the cereal isle in your local market/grocery store
Milk - your choice
Sweetener - white/brown sugar, corn/maple syrup, honey
Raisins
Instructions
put 1-2 cups of cereal into a bowl
pour milk over the cereal - you judge the amount of milk that you like
sprinkle sugar over the cereal
add raisins - you judge the amount of raisins that you desire
Notes / Serving Tips
Kitchen Utensils – for Cold Cereal
Bowl - big enough for cereal and cream/milk
Spoon

Food Safety – for Cold Cereal
Wash your hands with hand soap and water.
Make certain that all kitchen utensils and tools are clean
Be cautious with the knife. Curl your fingers back away from the knife when holding what you are cutting.
Never lick a knife.
Do not lick your fingers without washing your hands instantly after licking.
Never lick any kitchen utensil without washing it instantly before using it again.

Variations – for Cereal
Add fruit of the season.

Easy Clean-up – for Cold Cereal
Dish soap, Dishtowels, Kitchen Sponge/Cloth
1. Wash all the kitchen utensils/tools and put them away in the proper cupboard.
2. Put ingredients back into the proper cupboards.
3. Wipe down the counter-top with soap and water.